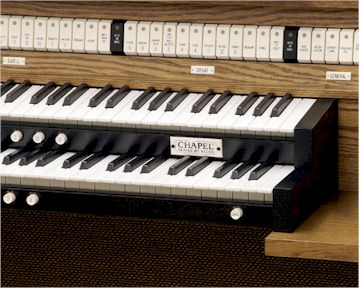 The Allen Organ Advantage
Quality Construction - Every Allen organ is a work of art that's built to last, created by skilled craftsmen using the finest materials and construction techniques. Plus, Allen builds its own electronics and components to make quality affordable and ensure long-term parts availability.
The Choice of Professionals - Allen is the instrument of choice for professional organists throughout the world! More than 70,000 installations in over 70 countries on all 7 continents point to this preference!
Unique Features - From multiple stoplists, to advanced MIDI capabilities and note-by-note voicing, every Allen has versatility to meet the demands and expectations of today's musicians and their varied musical programs.
Dependability & Service - Allen organs are the world's most reliable. And, when required, Allen provides incomparable service through local dealers supported by factory service experts.
Click Here to view our range of organs for sale.
Allen Organ Company offers the world's most comprehensive selection of organs, responding to every taste and need. The installations in prestigious houses of worship and concert halls throughout the world have set the standard by which all digital organs are judged.
Designed for smaller environments, The HISTORIQUE™ organ series offers the flexibility of up to four organ specifications on the HISTORIQUE I, and up to nine organ specifications on HISTORIQUE II and IIIa, with an optional virtual library of organs sampled from world-famous classical and theatre pipe organs!
CHANCEL™ series instruments make it possible for home organ customers and churches with limited budgets to enjoy the legendary sound that has made Allen the world's most preferred organ. Allen's unique manufacturing capabilities, economy of scale and advanced technology provide incomparable value at surprisingly affordable prices.
BRAVURA™ Organs prove that you can have lavish styling and rich sound without high prices to match. Featuring the advanced sampling methods and the handcrafted console construction used in our deluxe models, BRAVURA delivers legendary Allen sound and quality without breaking the budget.
BRAVURA is designed to satisfy everyone in your congregation -- both economically and aesthetically. The fine handcrafted wood construction remains strikingly beautiful while meeting Allen's demanding standards for durability. Our exclusive Lumitech™ system provides an affordable alternative to moving drawknobs, without sacrificing quality or endurance.
Most importantly, BRAVURA provides stunning pipe organ sound with Allen's proprietary technology.
Quantum™ Custom Organs are designed to the specific tastes and preferences of each customer. Consulting with local Allen representatives and Allen factory experts, Quantum customers choose from a variety of stoplists, console styles, keyboard finishes, drawknob treatments, audio systems and much more to create a unique instrument that is both a musical and visual work of art.
Many Quantum organs incorporate Allen's exclusive Multi-Point Audio™ design, producing clarity, detail and realism surpassing all other digital organs. The organ's sounds are divided among a lavish number of amplifier channels and a wide array of speaker enclosures, each optimized for a specific portion of the organ's tonal spectrum, creating spatial dimension that rivals most pipe organs.