Dueling Digital Pianos: Comparing the Yamaha Clavinova CLP 535 and CVP 601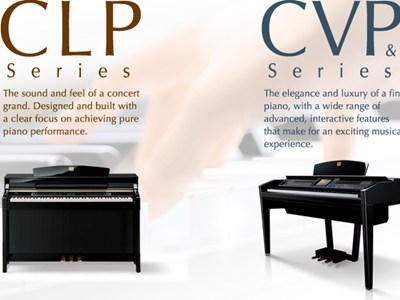 Yamaha is a name that is known world-wide for its quality, and its digital pianos are no exception. The Yamaha Clavinova is a digital piano, which is designed to offer the user an experience which is similar to that of an acoustic piano. There are several models in the Clavinova family, and regardless of what you are looking for, you will find a piano in that's right for you at Prestige Pianos.
Click this link to view our range of digital pianos.
Features of the Clavinova
There are several different models in the Clavinova series, and they range in size from a slimline model which can easily fit into small spaces, to a grand piano sized model which will be the centerpiece of any room. Each of these pianos, however, offers the same quality features that put the Yamaha Clavinova at the top of its class.
Some features include:
Intelligent Acoustic Control which ensures proper sound balance, even at low volume levels

Volume control and headphone jacks

USB Audio recorder allows you to record your performance

High efficiency amplifiers which improves performance and saves energy
Here at Prestige Pianos, two of our customers' favorite models are the CLP 535 and the CVP 601, both of which offer excellent quality, and different features, depending upon your needs. The CLP models are excellent basic models, while the CVP features more "bells and whistles." Depending on your budget, and the amount of extra features you are looking for, you will be certain to find a Yamaha Clavinova digital piano that is just right for you!
Yamaha Clavinova CLP 535 Features
CLP535
Choose from two, world-renowned concert grand pianos. Enjoy learning while playing on a keyboard with premium piano touch.
Clavinova™ CLP 500 Series - Clavinova reaches new levels of realism, expression and design with the CLP-500 series.
The CFX and the Imperial from Bösendorfer samples
256-note polyphony
Graded Hammer 3X (GH3X) keyboard with synthetic ivory keytops and escapement
Acoustic Optiomizer
Intelligent Acoustic Control (IAC)
303 lesson songs
YAMAHA 3 Year Warranty
Yamaha Clavinova CVP 601 Features
The CVP 601 model is a versatile machine. It is perfect for a beginner because it has a key lamp that lights up each key as you should play it, offering great instruction for beginners.
It is an excellent machine for experts as well. It comes with a 16 track sequencer, assignable pedals and a sound creator.
Solid wood console

16 track sequencer

Karaoke and vocal harmonizer

Hundreds of instruments and sounds

Music score and lyrics display

6 languages

Reverb and chorus digital effects

25Wx2 amplifier/16 cm speaker

387 Voices + 22 Drum/SFX Kits + 480 XG Voices + GM2 + GS (for GS Song Playback)

Accompaniment Styles

204 Pro Styles, 17 Session Styles, 36 Pianist Styles
The Clavinova is a well-made and highly respected name in digital pianos. Both of these machines are excellent pianos that will bring hours of enjoyment to their owners. The differences lie primarily in the number of special features that each contains, and the amount of money that each costs.
If you are looking for a great beginner instrument, then the CLP line is right for you. It offers beautiful sound along with excellent playing response.
The CVP line offers many extra features and is an excellent piano for those looking for a more advanced instrument.
Both these digital pianos represent the quality that the Yamaha Clavinova is known for. At Prestige Pianos, we carry only the finest lines of Yamaha products, and make them available at prices anyone can afford. Contact us today to learn more about what we have available.